School of Foreign Languages Holds a Handmade Sandalwood Comb-making Activity
Published:2021-11-12
Author:Yang Xiaohong
A handmade sandalwood comb-making activity, which was organized by the Women's Committee and the Labor Union of the School of Foreign Languages, took place in the large conference hall on the third floor of Yang Yongman Building at noon on October 21. More than seventy faculty members from various departments, groups and offices signed up for it. Zhang Hongmei, Associate Dean of School of Foreign Languages and Xing Lianqing, Vice Secretary of CPC SFL Committee, attended the activity. The activity was hosted by Yang Xiaohong, who was in charge of SFL women's affairs, and a member of the Women's Work Committee.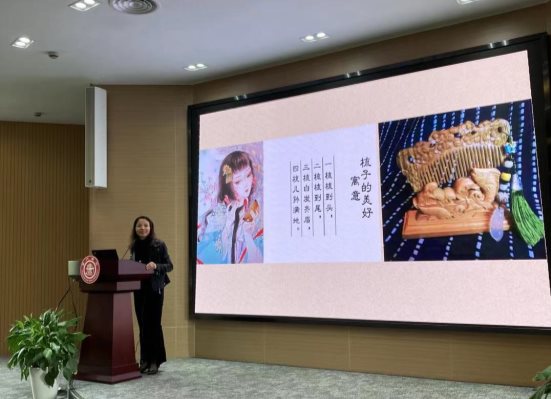 A senior handicraft instructor from Shanghai Tongyan Culture Communication Company was invited to be present at the workshop to explain step by step and provide hands-on guidance on the making of sandalwood combs.
Firstly, the instructor introduced the history, production process and function of the sandalwood comb. The so-called "pressed lapel" , which appeared in the Tang Dynasty and became popular in the Ming and Qing Dynasties, is an accessory hung on the chest of ancient Chinese women. Dangling on the upper right side of the lapel, it is worn to decorate, beautify and fix the lapel on festivals or major occasions. Modern pressed lapels can be used as a daily necessity, and also as an artwork for appreciation, relaxation and entertainment.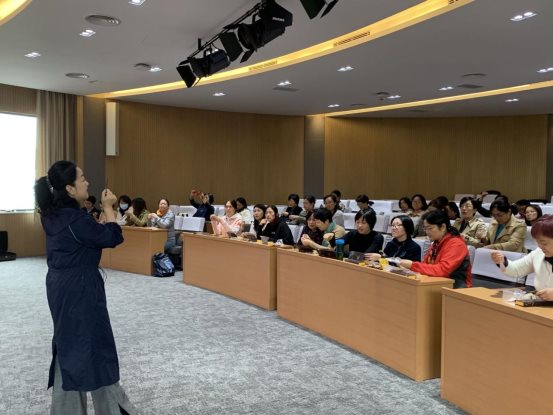 After listening to the instructor's introduction, the teachers were eager to try, holding the tools and materials, and observing the exquisite wooden comb emitting the fragrance of sandalwood. With the guidance of the instructor, in groups of three, the teachers, first of all, produced a 3 centimeter-long Bird's Head Knot by using double-headed colored thread. Then, by using a single-headed short thread, one and one, they stringed together cloisonne small seat, single spacer, white beads, double spacer, colored round beads, double spacer, white beads, lotus round beads. As a finishing touch, they hung a crystal-clear chalcedony, then burned and melted the thread end. By now, an exquisite pendant was ready. The final step was to use a Bird's Head Knot to weave the tassel onto the pendant and it was done.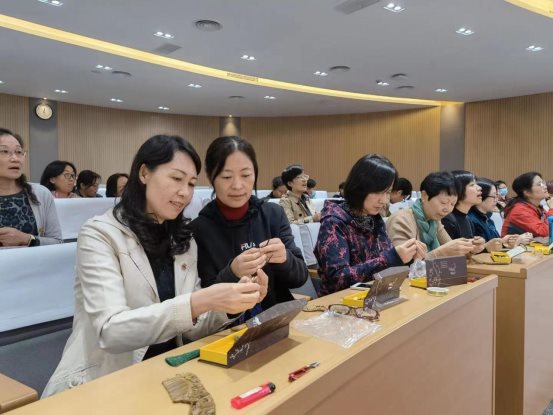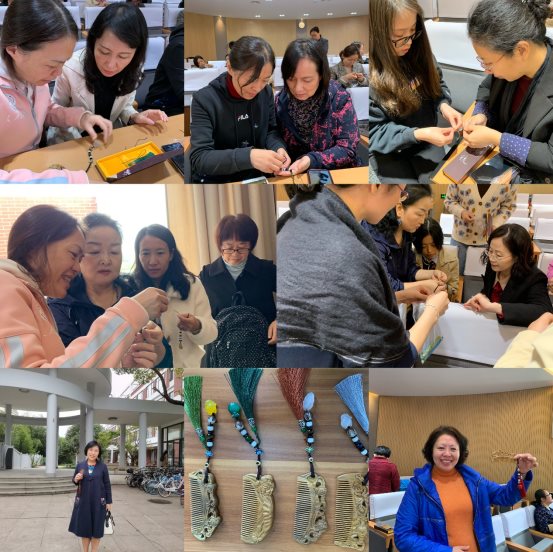 The instructor gave a demonstration of the steps and provided one-on-one guidance and assistance for any doubts and questions. Gradually, the teachers produced their own satisfactory works by carefully observing and imitating, meticulously making up the works, and helping each other. The conference room was full of laughter, and teachers spent a pleasant and fulfilling, warm and joyful lunch break together.