Volunteers from School of Foregin Languages of Shanghai Jiao Tong University Work For Success of CIIE
The Fourth China International Import Expo opened in Shanghai on November 4. A total of 105 students from Shanghai Jiao Tong University were selected to work at it, including 10 volunteers from the School of Foreign Languages, who are active in translation, service and back-up volunteer positions.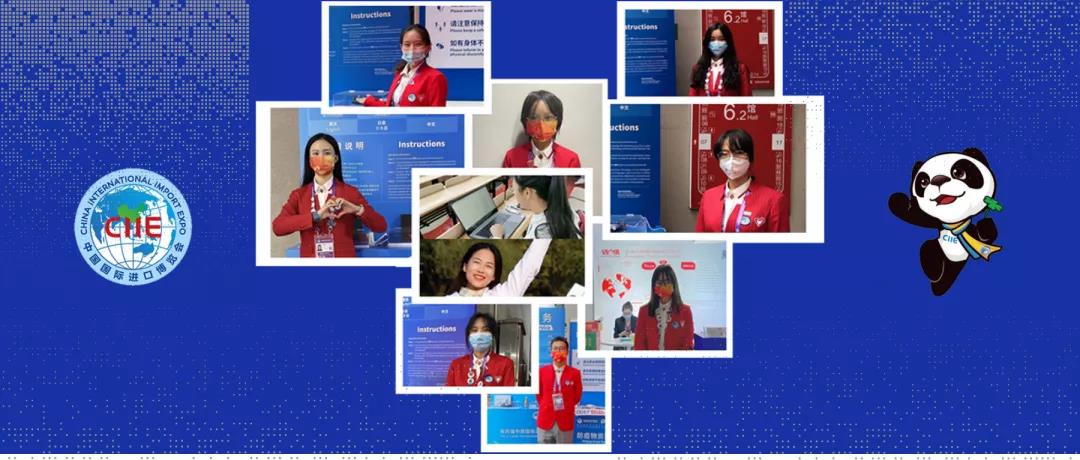 1.Translation Volunteers
Translation volunteers are responsible for providing foreign language consultation at the translation posts between the pavilions, providing guidance, and inspecting the venue.
Li Xiaohan, Sophomore, Japanese Department
"I will continue to improve my ability, to help the Expo with youth and enthusiasm, and to show the style of contemporary Chinese university students."
Guo Xiaoyu, senior, English Department(linguistics)
"When seeing the exhibition hall better day by day and the products in the exhibition area becoming more and more popular, I am more and more looking forward to being on duty, welcoming guests from all over the world!"
Qi Yunqing, Sophomore, English Department
"It was not easy for me to get familiar with the booths, and my feet got sore from walking around the pavilions. But when I saw the various high-tech products on display at each booth, my whole body felt 'renewed'."
Han Siqi,Senior English Department (Linguistics)
"Every day in the pavilion, I can see all kinds of people busy in order to make the exposition a success, including workers who work overtime to catch up with the schedule, security personnel who patrol the venue, and media workers who come to report ...... Behind the success of each exposition, there are countless people's efforts and dedication."
Bai Yunfan,Senior, German Department
"During the pavilion inspection tour, I was deeply impressed by the display of various Chinese provinces, which reflect the rich culture in China's vast land and our cultural self-confidence. I hope I can do my best to help more guests, so that they can have better experiences and memories at the Expo."
Wu Yumeng, Sophomore, Japanese Department
"I feel more and more realistic as a young volunteer when I see the pavilion area getting better and better every day, and the staff and volunteers coming and going."
Zhang Hongyu,Class 2019 PhD student,Translation Major
"During this service I have the opportunity to visit the venue and experience the rapid development, farsightedness and broad scope of our country. I am very proud to be there!

2 Integrated Service Volunteers
The volunteers of the integrated service post is responsible for providing legal consultation services, and also guiding visitors to the venue on a daily basis.
Ji Yuxuan, senior,English department(translation)
"As a proud volunteer from Shanghai Jiao Tong University, I am looking forward to participating in this national diplomatic event. Volunteers from SJTU will measure the venue with our feet and help the Expo with our enthusiasm, and we will definitely contribute our youthful power to the 4th Expo!"
3.Back-up Volunteers
In addition to volunteers serving at the Expo on-site, there is also a group of volunteers behind the scenes, who work quietly to provide logistical services for the Expo volunteers. They are the Expo back-up volunteers.
Liu Xinyi,sophomore,Engish department
"I signed up for online back-up volunteers for the Expo this time. My duties involve maintaining documents, organizing data, real-time updates of the Expo, as well as logistics. In a word, serve the volunteers working on-site well."
He Aidi, junior, English department(translation)
"As a member of the core group of SJTU's Youth Volunteer Team, I chose to stay at the campus to provide logistical support services for the volunteers, including data organization and other work. Majoring in translation, I would love to be able to officially participate in the Expo, but it is equally honorable to be a back-up volunteer."