First Language Intelligence and Neuroscience Forum
Published:2018-12-21
Author:Yang Dongdong
In this new era, governments, educators, technology entrepreneurs and linguists are facing new and urgent problems. How can we use big data, cloud computing, AI and other technologies to do a better job in language teaching and research? How can we cultivate first-class talents when building a world-class university? How can we deal with language science and technology transformation?
In line with these questions, the School of Foreign Languages is welcoming experts in politics, industry, education and researchers to a discussion forum on a variety of topics, including the reform of language education, talent cultivation in the AI era, innovative models for the cooperation between universities and enterprises, machine translation, language teaching, language intelligence and related laws and regulations.
This forum will be held on January 5th (afternoon) and on January 6th 2019, in School of Foreign Languages of Shanghai Jiao Tong University (Minhang campus) and will focus on two main concepts: reform and cooperation, aiming to create a platform for industry linked cooperation.
Experts and entrepreneurs interested in language intelligence are all welcome to join this forum.
1. Speakers and Topics
| | | | |
| --- | --- | --- | --- |
| No. | Name | Title | Speech Topic |
| 1 | Zhou Xiaolin | Director, Center for Brain Science and Cognitive Science, School of Psychology and Cognitive Science, Peking University | An alternative structure rescues failed semantics? Strong global expectancy reduces local-mismatch N400 in Chinese flexible structures |
| 2 | Yang Yiming | Dean, School of Language Science and Art, Jiangsu Normal University | To be confirmed |
| 3 | Li Chunbo | Vice President, Shanghai Mental Health Center | To be confirmed |
| 4 | Gu Yueguo | Director, Applied Linguistics Research Office, Chinese Academy of Social Sciences | Three "Welt" and human-machine modeling |
| 5 | Wei Naixing | Dean, School of Foreign Languages, Beihang University | To be confirmed |
| 6 | Li Aijun | Director, the Speech Research Office, Institute of Languages, Chinese Academy of Social Sciences | To be confirmed |
| 7 | Yang Yufang | Former Director, the Institute of Psychology | To be confirmed |
| 8 | Feng Zhiwei | High-end Distinguished Professor, Hangzhou Normal University | Machine translation and artificial intelligence |
| 9 | Chen Yunwen | CEO, Data Grand | |
| 10 | Lin Hui | Chief scientist, LAIX | Helping people learn with machine learning: Theory and practice |
| 11 | Guan Jingjing | Director of China Innovation Center, Sonova (Sonova Group, Switzerland) | Sonova's hearing solutions: from ear to brain |
| 12 | Xia Hairong | Chief Scientist, Hujiang | Language learning + Intelligent technology: Exploration and practice of Hujiang |
| 13 | Luo Jun | Deputy General Manager of SPSP Venture Capital | |
| 14 | Zhao Hai | Professor, School of Electronic Information and Electrical Engineering, SJTU | Machine translation and speech recognition from the perspective of language processing |
| 15 | Xu Xu | Professor, SFL, SJTU | |
| 16 | Yang Xiaohu | Associate professor, SFL, SJTU | Effects of aging on speech perception and its neural mechanisms |
| 17 | Wu Mengyue | Assistant Researcher, AI Speech Intelligent Voice Lab, SJTU | Auditory perception in intelligent speech technology |
| 18 | Jiang Xiaoming | Associate Professor, Department of Psychology, Tongji University | Cognitive neural mechanism of speaker's knowing and unknowing sense |
2. Conference Information
Date and Time: January 5th 2019, 13:00-17:00; January 6th 2019, 08:30-17:00
Venue: SFL, SJTU (Yang Yongman building)
Opening Speech: Hu Kaibao, Dean of SFL, SJTU
Host: Professor Ding Hongwei, SFL, SJTU
3. Fee: 1200 RMB (600 RMB for students)
4. Address: 204, School of Foreign Languages (Yang Yongman building), SJTU, No.800 Dongchuan Road, Minhang District, Shanghai, China.
5. Contact
Zhang Hui (PhD)
Tel: 86-021-34205643 Email: speechscience@163.com
6. Payment process
Online payment is to be made before January 6th, 2019, according to the following instructions:
Access http://www.jdcw.sjtu.edu.cn/payment/ (SJTU online payment platform) and register. After registering, log in. Select the conference "First Language Intelligence and Neuroscience Forum (第一届语言智能与神经科学论坛通知)" and click "Pay" at the right bottom corner.
You will then be redirected to the following interface. Enter the registration fee: 1200 RMB (600 RMB for students).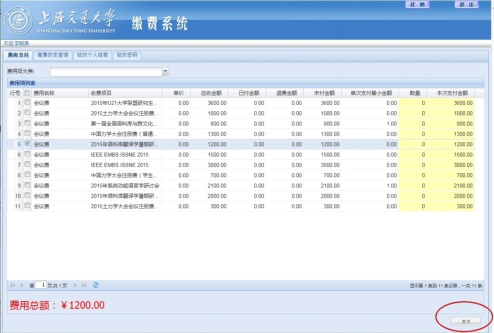 Notice: In this interface, you will need to change the name of the invoice payer (if you need to fill in the tax number, please include it here). If you do not change it, the registration name will be used as default. Once invoices are issued, they are non-refundable and non-exchangeable.
After filling in your payment information, click "Next" to complete your payment.
7.
Receipt of the First Speech Intelligence and Neuroscience Forum of the School of Foreign Languages, SJTU

Name

Contact number

E-mail

Department

Title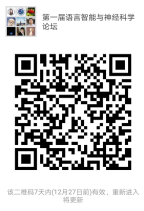 WeChat Group for the conference