2019 SJTU Summer Seminar on Narratology Successfully Held
The 2019 SJTU Summer Seminar on Narratology was successfully held in Shanghai Jiao Tong University from July 3 to 5. The Summer Seminar was organized by the School of Foreign Languages at Shanghai Jiao Tong University, in collaboration with Frontiers of Narrative Studies (De Gruyter), an international academic journal on narrative studies. It aims at providing narrative scholars, especially young teachers and graduate students, a platform for discussing frontier topics of narratology and broadening their academic visions.
Renowned scholars from both China and overseas were invited to this summer seminar, including Brian Richardson (Professor of English at The University of Maryland, former president of The International Society for the Study of Narrative), Tan Junqiang (Professor at Yunnan University, vice president of The Chinese Society for the Study of Narrative), Liu Jianjun (Professor at Shanghai Jiao Tong University, inspector of National Social Science Fund of China), Shang Biwu(Changjiang Youth Scholar, Professor at Shanghai Jiao Tong University). Over 70 participants from various universities in China presented in this seminar to discuss such issues as core theories of narratology, frontiers of narrative studies, and the application for National Social Fund of China.
The opening ceremony was held on the morning of July 3. Professor Hu Kaibao, dean of the School of Foreign Languages at Shanghai Jiao Tong University, and Professor Brian Richardson from The University of Maryland both gave welcome speeches. Professor Hu, on behalf of the School of Foreign Languages(SFL), expressed his warm welcome to the participants. He also introduced the recent developments of the School of Foreign Languages at SJTU. He especially mentioned that the narrative studies team at SFL is gaining increasing influence in China and has become one of the most prominent features of the school. Professor Richardson expressed his pleasure of coming to China to communicate with Chinese colleagues and hoped that he could bring the participants beneficial lectures in the upcoming days.
The lecture on the morning of July 3 was delivered by Professor Shang Biwu. In his talk entitled "Narratology: Basic Concepts, Conceptual Shifts, and Paradigm Shifts", Prof. Shang adopted a diachronic approach to trace the revival of classical narratology and the rise of post-classical narratology since the end of the twentieth century. With his broad academic vision and keen academic insight, Prof. Shang provided some significant research topics for the participants. In his opinion, the "narratology enterprise" continues to prosper in today's academic world and has very good prospects for literary scholars. His lecture provided a comprehensive introduction to narratology as a discipline in its own right and all participants would agree that Prof. Shang offered an enlightening talk to beginners in this field.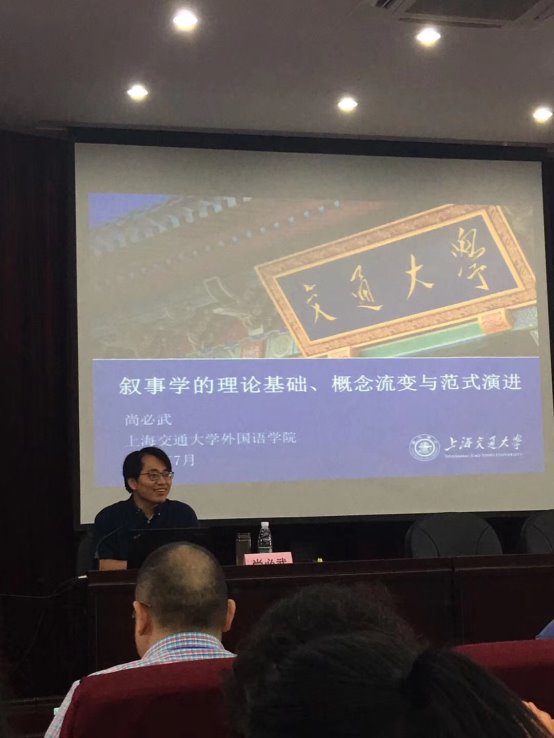 Professor Brian Richardson presided over the lecture on the afternoon. Starting from the distinction between "mimetic narrative" and "anti-mimetic narrative", Prof. Richardson expounded upon the definition of unnatural narrative and at the same time positioned unnatural narrative theory as a complement to existing theories. As Prof. Richardson pointed out, literary theory, since the time of Aristotle, has been grounded in realist narratives, and narrative theory has been limited by the theoretical framework of structuralism and that of Gérard Genette, which can no longer satisfy the need of current narrative studies. Therefore, itis high time that unnatural narrative theory was put on the agenda. Soon afterwards, Prof. Richardson gave an introduction to the framework of unnatural narrative theory and made a clarification of some core concepts. His lecture provided an elaborate account with extensive quotations, making available to the participants a clear picture of one of the branches of post-classical narratologies.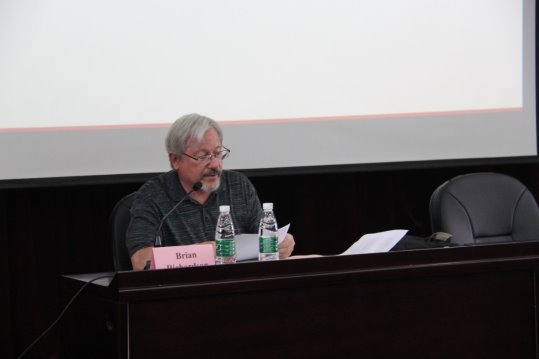 On the evening of July 3, the conference committee organized a special session,"An Evening with Brian Richardson". Professor Shang Biwu and Professor Richardson had a thorough discussion on the core concepts, theoretical developments and research methods of unnatural narratology. Later, the participants actively asked questions about confusions during their researches, and received detailed answers from Professor Richardson in a lively atmosphere. Professor Richardson also offered considerable encouragement to all the scholars present who are or will be engaged in the studies of unnatural narratology.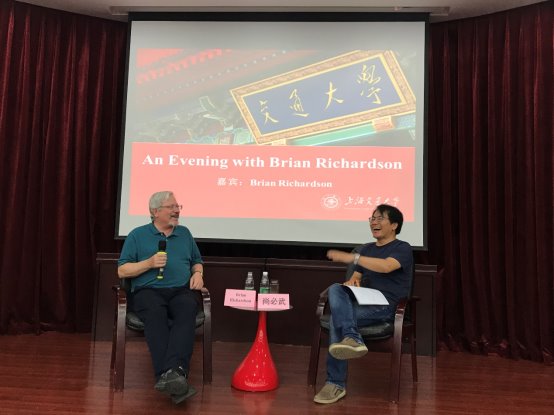 The lecture on the morning of July 4 was delivered by Professor Brian Richardson. On the topic of "Unnatural Narrative Time and Unnatural Narrative Sequence", Professor Richardson introduced different types of unnatural time and unnatural sequence. He first added unconventional categories separately to Genette's notions of order, duration and frequency with examples of narrative works of different periods and media. Then, particularly focusing on the distinction between fabula and syuzhet, he illustrated various types of fabula that breaks the causal or chronological order, and usual or unlikely syuzhet. The whole lecture was vivid and inspiring. After it, participants raised questions, to which Professor Richardson patiently gave full and precise answers.
In the afternoon, Professor Tan Junqiang gave a lecture entitled "Transgeneric Study of Narratology and Poetry Narratology", in which he systematically introduced the status quo, contents, and methods of the study of poetry narratology. Professor Tan first pointed out that the study of poetry narratology had been long neglected and expounded on the rationality and necessity of poetry narratology from the aspect of genre. Then, he stated that lyric poetry should be the main focus of the study of poetry narratology, the feasibility of which was explained in details from several aspects. Finally, taking Andrew Marvell's To His Coy Mistress as an example, he demonstrated how poetry narratology could be applied to the criticism of actual texts.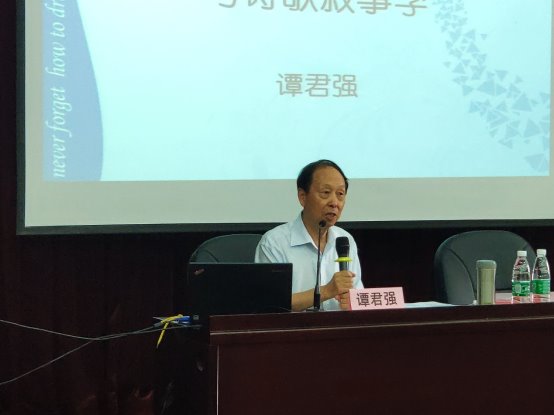 In the evening, Professor Shang Biwu and Professor Tan Junqiang had a detailed conversation on the topic of "The Paper Writing, Project Declaration and Fund Declaration", in which Professor Tan, with reference to his rich expedience, gave practical suggestions to the participants concerning how to conduct narrative studies. Professor Shang elucidated the procedures and key points of project application. At the end of the conversation, Professor Tan quoted a Chinese proverb "Faith will move mountains" to encourage the participants to overcome difficulties and forge ahead with their research in the future.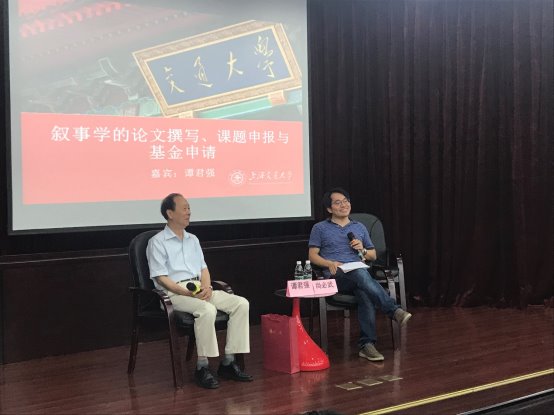 The first lecture on the morning of July 5 was delivered by Professor Shang Biwu, who mainly discussed the emergence, development and trends of post-classical narratologies under the title of "The Genealogical Composition and Core Propositions of Post-classical Narratologies". He pointed out that the periodization of narratology had been a major concern for narratologists, and nowadays the division of classical narratology and post-classical narratology was widely accepted in international academia. According to Professor Shang, post-classical narratology surpassed classical narratology in terms of methods and media. Finally, from a diachronic perspective, he discussed the developments and variations of narratology.
The second lecture in the morning of July 5 was given by Professor Liu Jianjun. Professor Liu's lecture is entitled "Literature Research Innovation and Social Science Fund Application". He remarked that literary research today should be question-oriented, which in specific means that scholars should propose sets of research questions in accordance with the national policies concerning academic research and discipline construction. Professor Liu emphasized the importance of reinterpreting core concepts of literary criticism and close reading of classic texts. The whole lecture was vivid and interesting. The participants actively asked questions about personal research and received patient answers from Professor Liu.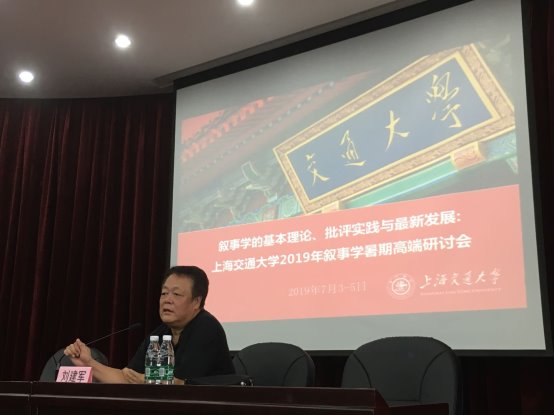 The lecture on the afternoon of July 5 was delivered by Professor Brian Richardson. Professor Richardson's theme of unnatural plots and unnatural endings, with a large number of literary works as examples, systematically sort out the categories of unnatural plots and unnatural endings. He first examined various ways of unnatural plotting and its purposes. Later, Professor Richardson discussed various types of unnatural endings and investigated the aesthetic values and ideological references contained therein.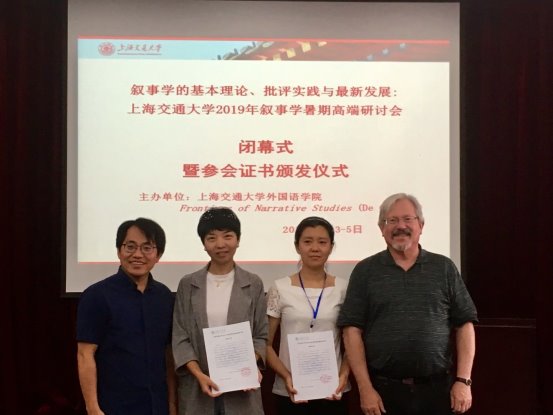 At the closing ceremony, Professor Richardson and Professor Shang Biwu delivered speeches respectively, congratulating the successful completion of this seminar. They affirmed the bright future of narratological research and encouraged participants to study narratology in the future. Later, Professor Richardson and Professor Shang Biwu issued certificates for the participants. Miss Zheng Jie from Guangdong University of Foreign Studies and Miss Zhu Feifei from Huazhong University of Science and Technology gave speeches as student representatives. They said that the three days of study and discussion were intense but enriching. The seminar enriched the participants' understanding of the basic and frontier theories of narratology and provided practical suggestions for their future academic research. Like all the students present, they are looking forward to the next SJTU Summer Seminar on Narratology.